REACH authorisation has positive impacts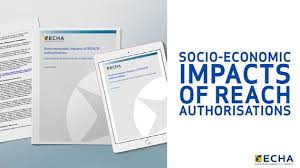 ECHA/NR/20/04
The EU-wide requirement for companies to obtain authorisation from the European Commission before using harmful chemicals has sped up substitution and reduced risks to people's health and the environment - at a reasonable cost.
According to ECHA's study on the Socio-economic impacts of REACH authorisations, the authorisation requirement has pushed companies to move away from using substances of very high concern (SVHCs).
Out of 54 chemicals subject to authorisation, the use of almost half has stopped altogether in the EU. Furthermore, the review of existing authorisations shows that even where the use of some chemicals has continued, use volumes have reduced by 97 %. This indicates that uses of authorised chemicals have been extensively replaced.
Where replacing a harmful chemical is not yet feasible, the study estimates the societal benefits of authorising SVHC uses to be almost 20 times greater than the remaining health risks. The benefits relate to the availability of products and services, business maintenance and jobs within the EU.
For more information: https://echa.europa.eu/bg/-/reach-authorisation-has-positive-health-and-environmental-impacts
Gallery