Directive (EU) 2019/904 of 5 June 2019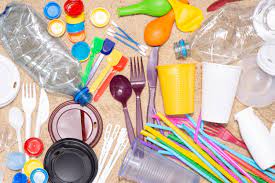 Directive (EU) 2019/904 of the European Parliament and of the Council of 5 June 2019 on the reduction of the impact of certain plastic products on the environment aims to prevent and reduce the environmental impact of certain plastic products, in particular the marine environment, and to promote the transition to circular economy through the introduction of a combination of measures tailored to the products covered by the directive, including bans throughout the EU on certain single-use plastic products for which sustainable and affordable alternatives are available. The directive, as well as the EU's plastics strategy, are important elements in the EU's transition to a circular economy, promoting innovative and sustainable business models, products and materials.
The directive covers the 10 most common disposable plastic products on European beaches, as well as fishing gear.
The directive must be transposed into national legislation by 3 July this year.
A summary of the requirements, as well as instructions for its implementation can be found in the documents section.
Gallery